October 4, 2017 | George Troquato
Crush is On!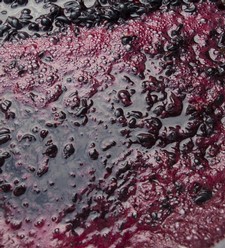 October is a busy time of year in the cellar. Grapes are still arriving from the vineyards while some wines are undergoing fermentation. White grapes go directly into the press where the juice is pressed off and then pumped into a settling tank. From there, our Monterey Chardonnay is tank-fermented; our Santa Cruz Chardonnay is barrel-fermented.
Red grapes bypass the press and go through the destemmer-crusher prior to fermentation. Fermentation is the process by which the natural sugars in the grape juice are converted to alcohol, CO2, and heat through the addition of cultured or native yeast. Native yeast originates on the skins of grapes and from the cellar. Winemakers must keep an eye on many factors during fermentation, but the main emphasis is to maintain a hospitable environment in which the yeast can do their job—to fully ferment the wine dry, which means there is no remaining sugar.
Cheers,
George Troquato, Winemaker