Upcoming Cinnabar Events
| Sun | Mon | Tue | Wed | Thu | Fri | Sat |
| --- | --- | --- | --- | --- | --- | --- |
| 28 | 29 | 30 | 31 | 1 | 2 | 3 |
| 4 | 5 | 6 | 7 | 8 | 9 | 10 |
| 11 | 12 | 13 | 14 | 15 | 16 | 17 |
| 18 | 19 | 20 | 21 | 22 | 23 | 24 |
| 25 | 26 | 27 | 28 | 29 | 30 | 1 |
Click here to see a full list of events
Corporate & Private Events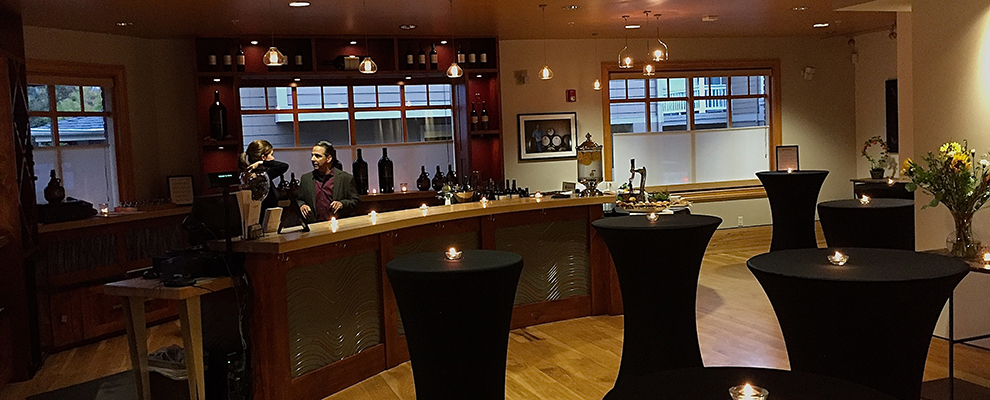 Our Tasting Room facility in downtown Saratoga is available for small and medium-size business functions or private events. This tasteful venue is a great choice for your next offsite corporate gathering, birthday party, or family event in Silicon Valley.
The Tasting Room is available for exclusive events from 6:30 to 8:30 pm, Sunday through Thursday.
The Space:
Elegant indoor space with a bar and adjustable seating options (40 persons maximum)
Deck and patio with shaded outdoor seating (24 persons maximum at tables)
The Package:
Entire premise: $600 per hour
Just the deck: $200 per hour (during normal operating hours on Mon-Thurs we allow rental of the deck only, weather permitting)
2 hour minimum, 3 hour maximum
2 friendly servers
10% off any wine purchased during the event
15% gratuity will be added to the total cost
$200 security deposit required; 48 hour cancellation policy
Customize your experience:
Wine tasting menu customized to suit your needs
Wines available by the glass or bottle
Choose your favorite caterer, or use our local partner, The Napkin Ring (minimum 15 people for $300)
New to Cinnabar? Visit the Tasting Room for a complimentary tasting to get the lay of the land.
Planning an event elsewhere? We can come to you!
Contact our Marketing and Sales Associate Cynthia, cynthia@cinnabarwinery.com or 408-867-1012 for more details.

Book Your Special Event Today