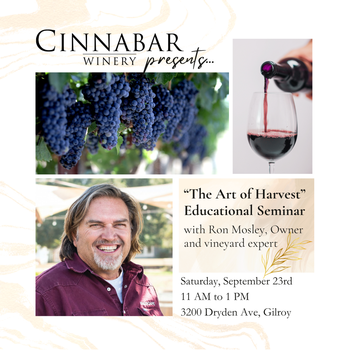 The Art of Harvest: Educational Seminar
Ever wondered how wine making experts know when grapes ready to harvest? Or how things like weather and temperature impact harvest season? The art of harvest is truly magic, and now you can be a part of it!
Join Cinnabar owner and vineyard expert Ron Mosley for "The Art of Harvest" educational seminar, an afternoon of hands-on learning and fun. You'll experience first-hand how grapes are tested for ripeness and flavor, and learn how they transform into your favorite wines. With Ron's 40 years of expertise and stories to share, you won't want to miss this fantastic event to kick off Fall. Includes lunch.
This vineyard event will be a hands-on workshop on Saturday, September 23rd, 11:00am - 1:00pm, at Cinnabar's winery located in Gilroy. $50 per person, $40 for AWS Club Members.
After a brief demonstration in the winery, we will head out to the vineyard for some hands-on learning.
Activities include:
Testing of sugars, acids, Ph, color
The aroma profile and tasting flavors.
How to estimate grape tonnage.
Harvesting the grapes.
Wine & box lunch will be served.
Please dress in layers and shoes appropriate for walking in the vineyard. Hats and sunscreen are also recommended.
There is a saying in the wine business, "The wine is made in the vineyard." Join us for a good time and learning experience for all!
Cinnabar Vineyards & Winery Gilroy Location: 3200 Dryden Avenue, Gilroy, CA 95020
**If you have any dietary allergies or restrictions, please call to let us know at (408) 867-1012 or email us.