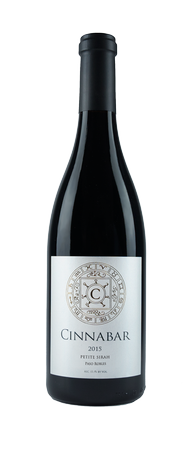 2015 Petite Sirah, Templeton Gap, Paso Robles
The Taste
Blackberry, Black Pepper, Allspice
The Science

Alcohol
15.1%

pH
3.72

Acidity
0.67g/100ml

Varietal Content
95% Petite Sirah
5% Zinfandel

Vineyards
Sunset Ridge Vineyard

Stats
119cases produced
Harvested Sept. 30, 2015
Released Sept. 1, 2017
The Magic

3–4 days cold soak; 16 days fermentation in plastic open-top bins
25% whole cluster fermentation
Punched down 2–3 times per day to ensure complete fermentation
Fermented warm to 85 degrees
Aged for 20 months in American oak barrels (35% new)
The Alchemists
George Troquato, Winemaker
Alejandro Aldama, Cellar Master
The Grape

Petite Sirah (aka, Durif) is the offspring of Syrah and Peloursin. Durif was developed in France in the mid-1800s to resist powdery mildew but was found to be less resistant to gray rot, which exists more in France than in the drier climate of California. Petite Sirah is often blended with Zinfandel to add structure and color to a wine and, of course, is also a fantastic standalone wine.
The Land

The Templeton Gap, a cool, breezy area of Paso Robles, experiences significant cooling in the evening due to air movement from the Pacific Ocean that enters the Gap through a series of breaks in the coastal mountain range. Alluvial and clay loam soils with shallow-to-moderate depth interspersed with shale and calcareous soils rich in lime and chalk help control the rate of plant growth and yields—producing wine with intense color and mouthfeel.
The Season
In early 2015, California experienced 30% more rainfall than in prior years, easing concerns over a possible fourth consecutive drought. Bud break in March was normal, but May was cold and wet, disrupting bloom and reducing crop loads up to 40% in some areas. Despite this, the vintage produced wines that are more structured, ensuring greater ageability.