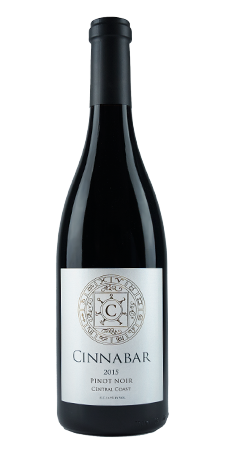 2015 Central Coast Pinot Noir
The Taste
Rhubarb, Manzanita, Plum Jam
The Science

Alcohol
14.9%

pH
3.55

Acidity
0.63mg/100ml

Varietal Content
100% Pinot Noir

Vineyards
Pietra Santa

Stats
186 cases produced
Harvested Sept. 1, 2015
Released Feb. 1, 2017
Consume: 5-7 years
The Magic

Hand harvested in the early morning cool of September 1, 2015
Aged for 17 months in French oak barrels (40% new)
The Alchemists
George Troquato, Winemaker
Alejandro Aldama, Cellar Master
The Grape

This Pinot Noir clone is Dijon-115, a higher-yielding clone that gives off spicy aromas, especially when whole clusters are used during fermentation. It produces complex and powerful wines—not as deep in color as other clones, but with longer aging potential.
The Land

Pietra Santa Vineyard lies in Cienega Valley, where cool marine air spills over the mountains from Salinas. The San Andreas Fault line runs through this region, filling the soils with granite and limestone, which work well in concert with the cool climate for ripening Burgundy varietals.
The Season
2015 marked the 4th year of drought in California. Cool weather during bloom in May and June led to a remarkably early harvest, resulting in lower yields, but fruit with concentrated flavors and colors.