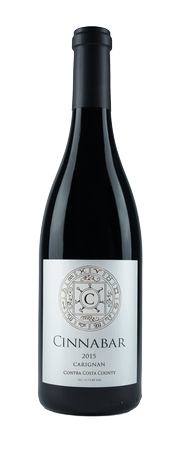 2015 Carignan, Contra Costa County
The Taste
Black Cherry, Cedar, Licorice
The Science

Alcohol
14.1%

pH
3.46

Acidity
0.62g/100ml

Varietal Content
95% Carignan
5% Alicante Bouchet

Vineyards
Sandy Lane Vineyard

Stats
149 cases produced
Harvested Sept. 6, 2015
Released Dec. 1 2017
Age 5–7 years
The Magic

2–3 days cold soak
Fermented 10–12 days in open-top bins (30% whole cluster)
Punched down 2–3 times daily to ensure complete fermentation
Fermented warm to 85 degrees
Aged for 11 months in French oak (30% new)
The Alchemists
George Troquato, Winemaker
Alejandro Aldama, Cellar Master
The Grape

Carignan is of Spanish origin and is widely planted in Southern France. The vines produce wines with bright acid, dark color, and rough tannins. Carignan blends well with Zinfandel and also makes for a great standalone wine.
The Land

Sandy Lane Vineyard overlooks the Sacramento Delta near the town of Oakley. Gnarly head-trained vines were planted in the early 19th century and are dry farmed on soils as sandy as any beach, which keeps the canopy and the crop load in balance.
The Season
In early 2015, California experienced 30% more rainfall than in prior years, easing concerns over a possible fourth consecutive drought. Bud break in March was normal, but May was cold and wet, disrupting bloom and reducing crop loads up to 40% in some areas. Despite this, the vintage produced wines that are more structured, ensuring greater ageability.