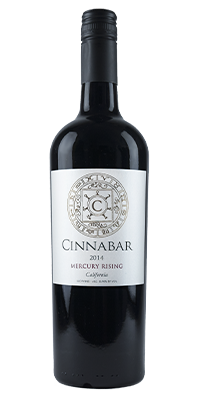 2014 Mercury Rising, California
The Taste
Spiced Plum, Toasted Oak, Blackberry Preserves
Click here to read the magical story of our most famous elixir!
The Science

Alcohol
13.9%

pH
3.65

Acidity
0.65g/100ml

Varietal Content
63% Cabernet Sauvignon
27% Syrah
5% Petit Verdot
3% Petite Sirah
2% Malbec

California AVA
Paso Robles
Red Hills of Lake County, Lodi

Stats
7,854 cases produced
Harvested Sept. 1 - Oct. 23, 2014
Released May 2016

The Magic

3 days of cold soaking
18 days of separate whole-berry fermentation in open-top stainless steel tanks
Aged for 14 months in French and American oak barrels (25% new)
Lightly filtered before bottling
Age 3-5 years
The Alchemists
George Troquato, Winemaker
Alejandro Aldama, Cellar Master
The Blend

Mercury Rising, Cinnabar's most popular wine, is a Bordeaux-style red Cuvée. The varietal blend is fine-tuned with each vintage to ensure the individual components contribute to the synergy of the aroma, flavor, structure, and mouthfeel.
The Innovation

Mercury Rising was created long before red wine blends became popular. Back when Cinnabar released its first vintages in the mid-1990s, many retailers did not know where to place the wine on their shelves, as the Meritage or Red Wine Blend categories had not yet been created. Twenty years later, many retailers now feature a whole section dedicated to red wine blends—a testament to Cinnabar's visionary winemaking!
Voted Best of Class, Bordeaux Blends, San Francisco Chronicle 2017 Wine Competition